How to Mile High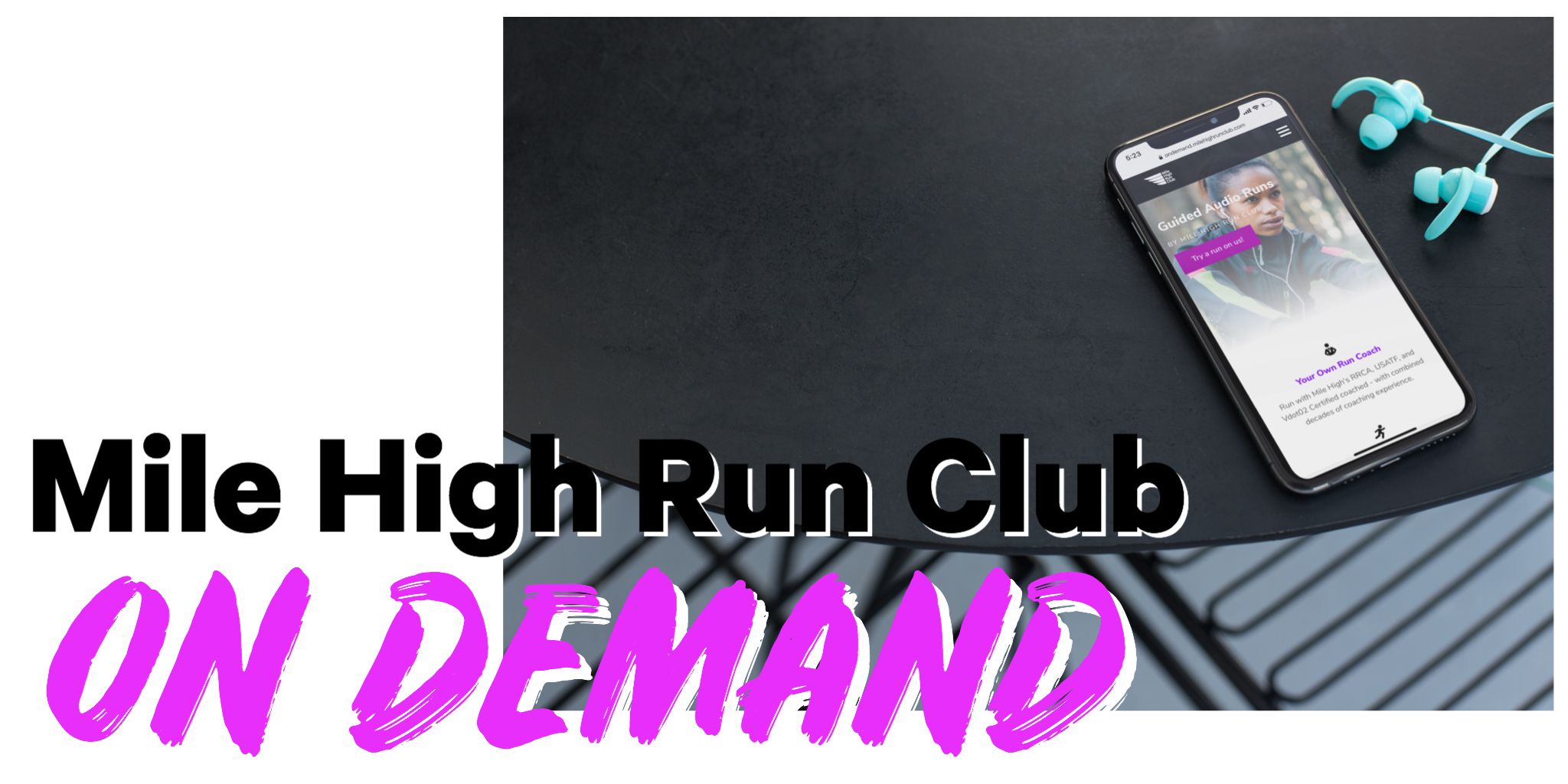 Subscribe to get access to our full library of Guided Audio Runs or rent a single run.
About our Guided Audio Runs
So many runs. Where to start?! Our coaches design each run with tried-and-true formulas to fit into ANY training regimen - from beginner to expert!
Whether you are running for time or looking for a particular training approach we have you covered. Our runs are grouped into three class types: Dirty 30, High 45, and The Distance. We offer various training styles within those classes and all runs are tagged so you can easily search for the type you are looking, for be it speed, tempo, long run, hills (treadmill-only), fartlek, etc. Please see the glossary below for longer descriptions of the different training styles.
To get the most from your run and achieve your goals more efficiently, we recommend incorporating one speed workout, one tempo workout, and one long run per week. These runs, coupled with runner-specific strength workouts (like those found in Mile High's Virtual Classes) will help runners of any level crush their goals!
Dirty 30

25-35 Minutes

Shorter speed work intervals (at any level) will teach your feet to move quickly and how to be efficient with technique and running form.

High 45

40-50 Minutes

Incorporating slightly longer efforts will condition the body to sustain more challenging efforts without compromising form.

The Distance

55-65 Minutes

The purpose of a longer duration run is to put time on the legs. Depending on the runner and the goal, this may mean sustaining lower paces for longer efforts with longer jogging recoveries.
This is a general guideline for runs from Mile High Run Club. Keep in mind - every runner is different, every day is different, and every run is different. Above all, choose your journey based on your goals and your current level of fitness.
What are LEVELS?
Mile High Run Club's Guided Audio Runs and in-studio classes both use LEVELS and RPE (rate of perceived exertion). Use this guide as reference when you're on your next run.
Coaches will explain the Levels used in each run and this guide will be available on the description page of each workout.
[Level 1]

50% effort

- Warmup/Cooldown Pace, conversational

Recoveries can be walk or jog efforts

[Level 2]

60% effort - Long Run Pace, still conversational but able to continue without stopping

[Level 3]

70% effort

- Half Marathon Pace, uncomfortable but sustainable. Able to speak a sentence or two

80% effort

- 10k Pace, uncomfortable push. Only able to speak a few words

90% effort

- 5k Pace, hard push

[Level 4]

100% effort - Sprint, all out
Glossary
Speedwork - refers to any workout run at a faster-than-normal pace. Performed to increase cardiovascular fitness, training yourself to go faster.
Fartlek - "speed play" in Swedish. A speedwork format in which you run faster for however long (or short) you want, random intervals.
Hill repeats - sprinting uphill fast, jogging downhill at an easy pace to recover, and then repeating the sequence. An efficient way to build leg strength, speed, and aerobic capacity. Hill repeats reduce your injury risk because they limit fast-running time and because the incline of a hill shortens the distance your feet have to fall, reducing the impact of each step.
Tempo (threshold)- running at a pace where lactate does not accumulate significantly in the blood during the workout, but rather stays at a constant level, should feel like a constant push.
Ladder - a workout design where you perform intervals and the time or speed ascends or descends in a pattern.
Running is more than just running...
Get your run-specific strength workouts with Mile High Run Club's LIVE Virtual classes.
View our schedule to book your next session.